First off, my apologies if anyone received a "restricted" label on the ultrasound videos in my last post and couldn't watch one or more. Who knew that "petting insides" would raise red flags on firewalls? These little nuggets aren't even out and they're already causing firewall security issues. Can't say I'm not impressed, but I'll make sure to be strategic in my video titles from now on!
Second, I feel like my to-do list is still recovering from winter break. You would think 10-days away from school would guarantee me moving mountains...but nope! Anyone else? Also, to slow down any progress further, I gained a brand new accessory Christmas Eve:
Side note: My little white dog has taken this all-black gem as a challenge.
Doctors have blamed HORMONES...expanding ligaments and tendons to increase girth and all that.
The only sure-fire way to recover they said?
Well, that's just not going to happen anytime soon!
One of my doctors has recommended that I gain a whopping
80-100 pounds
.
He said my caloric intake should be close to 6,000-7,000 calories per day.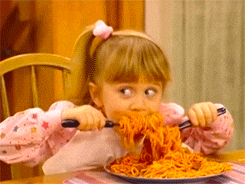 Let's just agree that number is physically impossible in a 3-month span. There's only so much room, folks...but that doesn't mean I'm not going to give it my best shot!

I know I need to post a picture soon and I'm working on it, but until then just know that I'm rivaling a fellow teacher in size that's due in 2 weeks. Random people at Target have started asking me when I am due and just stare at me when I tell them I'm hoping to make it another 10-weeks. The fun begins when I just walk away and don't explain further...
Anyways, the to-do list accomplishments that actually did get done were conquered in-part because of my lovely family stepping in! Here is what has been done in a nutshell and a glimpse at the aftermath:
1. Organizing the chaos.
As an avid garage sale shopper, random bags of clothing, bottles, and toys enter our home on a weekly basis. My mom holds the same addiction near dear to her heart. So, these babies are really enabling some hardcore deal finding! Cleaning and organizing all of the goods has become a job in itself.
My poor husband.
My dear, sweet husband slaving over a tub full of soapy water conquering ALL THE BOTTLES.
I do have to brag a bit on the organizing. Anyone else loving Marie Kondo's
Tidying Up
series on Netflix?
I could watch this for hours...but there's no way I'm doing this to all my clothes!
Check out how this bottle tower! I'm loving the whole "seeing everything you have" concept. My ultimate hope is that it gets the husband to find everything himself without asking me every time.**
So majestic!
The Kondo Method was also used to organize baby clothes, but showing pictures would reveal genders. I've already slipped too many times!*
2. Putting together baby furniture.
Again, my family saved the day! New Jerseyans Aunty Katie and Uncle Alex combined with Grandpa Stu's superpowers made putting together cribs and changing tables a manageable task all in one afternoon.
The local Boy's Ranch gets donations from Target and sells them for pennies compared to in-store. My mom scored 4 changing table/dressers *NEW* in the box for $50 each!
Here's the current mess as of last night...
I will try to get updated pictures of the space as we continue to work on it and also let you in on the prison terminology that we've been utilizing as we organize everything. The nursery space fluctuates between presentable and a complete messy death trap on a daily basis. *YIKES*
3. Decorate the bathroom.
Until last month, we only lived upstairs. So, this bathroom rarely was used and all the walls were covered in a deep plum color. So, bring on the refresh! My husband and I will continue to use the upstairs bathroom ourselves, so this is going to be a kid-dominated space.
Please take note of all the hooks...
Elsie approved, which is all that mattered.
Next post: Ultrasound Updates
*Shh...don't tell my husband!
**There's no freaking way that can be avoided. It's just nice to think sometimes that I've prevented the fire.