I have such a huge post that needs to be done to shine a light on *ALL* of the magic that has been happening around us to help with all the baby preparations. Seriously. There's so many thank you cards that need to be written and so many acknowledgments that need to take place it's ABSURD.
Instead, here I sit.
Let's take a quick inventory of this picture:
1. Plaid leggings for "Plaid Day" at school today paired with hot pink socks.
2. My new highly-recommended reading material to get some tips for my summer plans.
3. Mail and packages that I opened this afternoon and immediately abandoned, including:
Target-delivered honey-based cough syrup for Elsie. She coughed in my face last week and it's been downhill for the both of us ever since.
Medical bills, because pregnant. [Not a typo. You all understand.]
The latest RealSimple ❤
Amazon-delivered couch cover for the new love seat downstairs. My dream is to have it washed bi-weekly for a while to have a guaranteed fresh baby-cuddling space for all. Reducing crusty and sticky surfaces in our house is a challenge I welcome with open arms while the babes are still in a "blob" stage.
4. Toys left out, which include (but are not limited to):
Random plush mushrooms.
The 'ol TI-83 without batteries, a.k.a. Elsie's phone.
An empty shopping basket that we use as a bin for Elsie to throw balls into. After frantic and frustrated research on how to "stop a toddler from throwing" it was recommended to not yell "NO! STOP!" anymore, but instead teach her what she *can* throw. Don't worry. I questioned this "soft" approach to the situation, too, but it's actually been working! I also felt like striking gold with finding these gems cheap at TJMaxx played a role in our success.
A Barbie with no pants on and her skirt pulled up. Was originally part of an award-winning Halloween costume when I was pregnant with my daughter (see photo). She was not originally supposed to be ever resurrected, but things happened that were out of my control...at least she's partially clothed now...
Handerpants. My dear older sissy-poo gifted these to my husband. May come in handy for ripe diaper changes of the future!

[Linked if someone needs these in your life!]
5. My husband hanging out. With a lovely ground blizzard in the works here, all swim practices are canceled, so get him home for the night! This also means there was no question on who was cooking tonight -- win-win for me!
I give this table 12-minutes before the toddler rampage swipes everything off it tomorrow morning.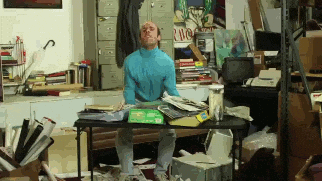 Side note: Did you see the first glimpse of the 24-week bump?